Nova Levante at Lake Carezza: Alpine flair in Val d'Ega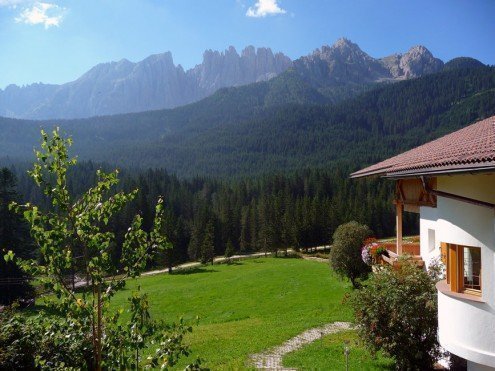 In the pristine mountains of the South Tyrolean Ega Valley you may spend relaxing days admiring a breathtaking panorama. The South Tyrolean mountain village of Nova Levante is surrounded by the mighty peaks of the Catinaccio and the Latemar. In the summer months, rhododendrons and gentians add vibrant splashes of colour to the natural landscape. Rushing mountain streams and rocky peaks accompany you on walks across the untouched alpine world. Up to an altitude of over 3,000 meters rises the highest peak – the Catinaccio d'Antermoia. The hike all around the prominent rock massif takes about six hours. Start and end point of the magnificent walk is the alpine lodge Cologne at an altitude of 2,337 meters or the Paolina Hut at an altitude of 2,125 meters. Here, in a cosy atmosphere you may enjoy South Tyrol specialties and from the terrace a magnificent view of the Catinaccio.
Lake Carezza – Scenic idyll in Nova Levante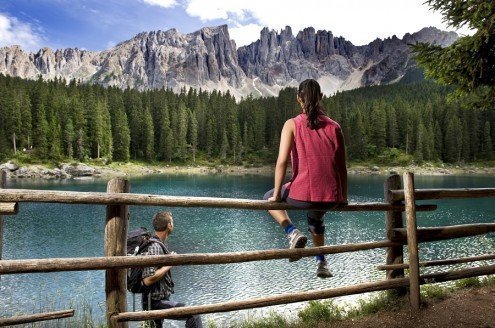 Myths and legends for centuries have surrounded the rocky peaks of the Catinaccio. The legend of King Laurin is the most famous among them. An incomparably beautiful sight is offered by Lake Carezza in the municipality of Nova Levante. The lake is one of the most charming mountain lakes in the Dolomites and on its water surface the distinctive summit of the Catinaccio reflects. On a hiking trail, you can walk all around Lake Carezza in Nova Levante. Don't miss a visit to the visitor centre by the lake to discover the legends of this alpine region.
Active holidays in Nova Levante at Lake Carezza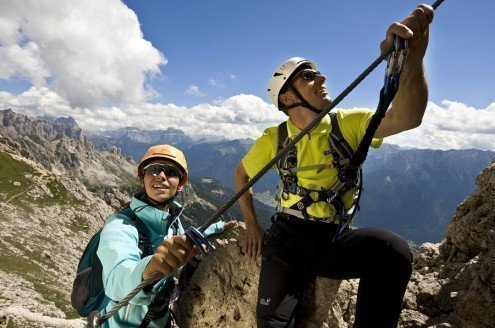 The South Tyrolean village offers the right hiking routes for every taste. High alpine mountain trails, challenging climbing routes and gentle hiking trails run through your holiday region. On the Elisabeth Promenade you may walk in the footsteps of the Austrian empress. Several times, she chose Nova Levante as the destination for her summer holidays. A memorial has been built along the way to honour the empress also known as Sissi. Fantastic views of the rocky peaks of the Catinaccio will accompany you during a walk around the "Karhöfe". For this tour, you can leave directly from the farm Karerhof. The whole beauty of the alpine mountains of the Dolomites will open in front of you on the way down into the Fötschen Valley.